Crime has fallen dramatically in the five low-income areas where Community Renewal operates neighborhood Friendship Houses, according to recent reports by the Shreveport and Bossier City Police Departments.
Major crime has dropped an average of 52 percent in the four Friendship Ho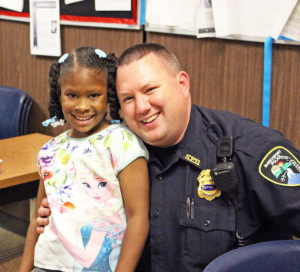 use areas in Shreveport and the one in Bossier City. The Shreveport and Bossier City Police Departments analyzed crime rates in the five areas, comparing crime rates from the year before the Friendship House opened through the end of 2015.
"All of our partners — every person, church, business, organization, all of our schools, our city, and especially our law enforcement departments — merit the credit for this major breakthrough," said CRI Founder Mack McCarter. "But our work is not done. We must take this trend to our entire community.
"We have really only just begun. Now after 20 years we know that caring together in a sustained, nurturing, and intentional system can bring a safer city. The results are before us."
Major crime has dropped significantly in each Friendship House area since the first Friendship House opened in the Highland neighborhood 1997:
                                               Allendale                                 60 percent
                                               Barksdale Annex                  55 percent
                                               Cedar Grove                           69 percent
                                               Highland                                  39 percent
                                               Queensborough                     37 percent
"Without a doubt, we can't do it alone. It takes neighbors working together to have safe, strong communities. There's nothing more important than good relationships among neighbors to help keep our neighborhoods safe," said Wayne Smith, Assistant Chief of Police, Shreveport Police Department.
"I lived in Queensborough for many years and I still go to church there. Community Renewal has Friendship Houses there and I see the benefit of our partnership to improve the quality of life in our neighborhoods by improving hope in our children."
Caddo Parish Sheriff Steve Prator has previously spoken highly of Community Renewal's positive impact.
"I applaud what you are doing and the pillars you stand on. There is now peace and quiet in areas that were once No Man's Land and that's refreshing," he said.
A Friendship House is like a community center in a home, reaching out to at-risk youth and families with after-school programs, community service projects and activities that build positive relationships among family members and neighbors. A CRI community coordinator and their family live in the home and become an active member of the neighborhood. Each neighborhood has two Friendship Houses, one with programs geared toward children and the other focused more on teenagers. Since the first house opened in 1997, more than 3,000 children and teens have participated in Friendship House activities.
"We are located on Darien Street and a couple blocks down from where we are right now was called Deadly Darien. It was a high-traffic drug and gang area," said James Melvin, community coordinator at one of the Friendship Houses in the Queensborough neighborhood.
"What we are attempting to do is reverse that cycle. This is a safe place in the community where we provide parental guidance that may not exist in some homes. We provide support and we provide positive reinforcement."
The major crime rate has fallen 60 percent in the Allendale neighborhood, where streets around the two Community Renewal Friendship Houses were once controlled by drug dealers and gang leaders.
Sherry Brown, project coordinator at CRI, previously served as a community coordinator at an Allendale Friendship House and still lives in the neighborhood. She has witnessed the remarkable change that has occurred there.
"When we first moved here it was very depressing. There was a lot of drug activity and I was often in fear for me and my children," she said. "Now we've built relationships with good people and there are new neighbors and this is becoming a good neighborhood. Now there is definitely a sense of hope. Something beautiful is happening before our eyes."
Homebuilder Curtis Loftin gives his time to serve as general contractor for construction of new two-story Friendship Houses.
"It's amazing to see the change in the people that live around these houses. When we started in Queensborough, people would walk down the street with their head down and as we started coming up with the house, their heads would come up, too," he said.
"It's an honor and a privilege to do this. Through this house, we are going to change broken lives. I've got the best job of all, because I get to see the community change as the house comes up. It's amazing to see."
Community Renewal has created the Safe City Support Team to help fund CRI efforts that are reducing crime in the city. Just click on the Give link at the top of the page to make your donation today!