Haven House
A Word from Russell Minor, Director of Haven House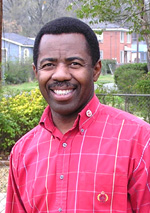 Neighbors in all communities have assumed that friendships and relationships naturally form and are self-sustaining. But at CRI, we believe that we must intentionally develop relationships and friendships on our block to build whole people, neighborhoods and communities. Absence of these social structures produces dysfunctional outcomes like isolation, crime, and mistrust. Haven House is the antidote to arrest this trend in our neighborhoods and cities at the grassroots level.
The Haven House motto is: "We are dedicated to remaking our city by making friends on our street." Haven House is a concrete strategy to take a city back, systematically, block by block. We must rebuild the relational foundation at the grass-roots level. We can e-mail, text, call and fax our friends and family members around the world, but often we do not know our neighbors living a few doors down.
In the Haven House strategy, we:
Enlist willing, private citizens in all neighborhoods to make friends with the neighbors on their block.
Equip potential Haven House leaders in a fun seminar, using practical strategies to build friendships, communicate effectively and develop a lifestyle of caring friendships on their block. Residents are asked to place a wooden Haven House "We Care" sign in the front yard of their home or apartment. Volunteers are provided a comprehensive Haven House leaders training kit and are given support with administration and neighborhood activities.
Encourage Haven House leaders to meet together on a monthly basis to deepen their relationships, share ideas, deal in solutions, network, and just have fun! The transformational breakthrough occurs when dedicated Haven House leaders come together from different neighborhoods across our city to get solutions.
Facilitate neighbors on a street to become caring friends, instead of isolated strangers – respecting, talking and walking together.
We welcome you to join with us from all neighborhoods in rebuilding community at the block level. There are countless stories on file from Haven House leaders telling of the positive changes that happen to them and their neighbors as a result of Haven House. Please email me or call me at 318-425-3222.
Hope you will join me,
Russell
Overview
The Haven House initiative brings together caring residents who are willing to reach out to their neighbors. Identified by a Haven House "We Care" sign in their front yard, Haven House leaders are trained volunteers who turn strangers into friends on the block where they live. They may host block parties, take meals to a sick neighbor, help find a lost pet, share garden produce, mow a yard or just offer a listening ear. Through simple acts of kindness, Haven House leaders are changing the world – one neighbor at a time!
Contact Russell Minor at russellminor@communityrenewal.us for more information.