Mack McCarter
A Word From Mack McCarter, Our Founder And Coordinator
Welcome to a journey we call Community Renewal and thank you for taking the time to learn more about us. I hope you will join with us on this walk to build safe and caring communities in cities across the nation.
A lifetime of ministry taught me this truth, which led to the creation of Community Renewal International in 1994: Cities rest on a foundation of relationships. When relationships disintegrate, a city begins to sink.
Criminal activity, domestic violence, child neglect, substance abuse, high school dropout rates and other problems are all symptoms of a society with a fundamental lack of caring relationships.
Community Renewal International works to restore the foundation of a safe and caring community by rebuilding the system of caring relationships. It's a large task and, indeed, no one individual or organization can tackle it alone. But by working together, we can reverse the process of disintegration which has destroyed every prior civilization in history.
We are fulfilled only as we serve others. We are complete only as we give ourselves to others. And we are perfected only as we seek to love others. This is our task: to become other-centered rather than self-centered.
Over and over again I hear a cry going up. From the wealthy and the poor, from the powerful and the dependant, from the global and the provincial, I hear groans with sighs too deep for words. The world today is crying out for a miracle.
I believe with my whole heart that all of us working together in community renewal are a miracle. Day by day, more and more caring partners are joining in this march of living with a dedicated purpose to stop the disintegration of our cities and grow a new model of community. This is much like starting a new technology – a social technology. It takes real sacrifice, but I know with your help we can succeed.
God bless you for joining this great miracle.

Mack's list of honors and awards includes:
2010's
2016
Guest panelist – Annual Conference on Citizenship – Washington, D.C.
2015
Distinguished Minister Award for Specialized Ministries – Brite Divinity School, Fort Worth, TX
2013
Christian Leadership Award – Centenary College, Shreveport, LA
2012
Difference Maker of the Year – Difference Makers Award, Shreveport, LA
Sister Margaret McCaffrey Award for outstanding service to the community – Christian Service Program
Invited for a fifth year to Clinton Global Initiative – Clinton Global Initiative, New York City
2011
Layperson of the Year – Louisiana-Mississippi-West Tennessee District, Kiwanis International
Layperson of the Year – Kiwanis Club of Shreveport
Invited for a fourth year to Clinton Global Initiative – Clinton Global Initiative, New York City
2010
Invited for a third year to Clinton Global Initiative – Clinton Global Initiative, New York City
2000's
2009
One of five finalists for the True North Award out of more than 2,300 entries nationwide – Frito-Lay Corporation
Invited for a second year to Clinton Global Initiative – Clinton Global Initiative, New York City
2008
Sacred Heart Humanitarian of the Year Award – Sacred Heart Catholic Church
Invited to Clinton Global Initiative, bringing together world leaders, business executives, faith leaders and other innovative thinkers to tackle the world's most pressing challenges – Clinton Global Initiative, New York City
2007
Distinguished Alumnus of the Year Award – Texas Christian University
Mr. Shreveport Award, for exceptional contributions to the Shreveport community – Optimist Club of Shreveport
2006
Angel Award, presented to "an extraordinary individual who donates his or her time and talent to help Louisiana children." – Blue Cross and Blue Shield of Louisiana
Dan Burt Bill of Rights Award – Northwest Chapter, ACLU of Louisiana
2005
Social Entrepreneurship Initiative Award, honoring contemporary non-profit organizations who have found innovative, private solutions for America's most pressing social problems. – Manhattan Institute
2003
Samaritan of the Year Award – Samaritan Counseling Center
Louisiana Public Citizen of the Year Award – National Association of Social Workers, Shreveport Region
2001
The Harry Blake Award, in recognition of trailblazing commitments to humankind and contributions for African-American empowerment – Mt. Canaan Missionary Baptist Church
2000
Hand in Hand Award, in appreciation for sharing your vision on race and cultural relations – Greater Shreveport Human Relations Commission Youth Council
Selected one of 10 New Century Leaders in Shreveport by The (Shreveport) Times
1990's
1999
Inducted into the C.E. Byrd High School Hall of Fame
Pete Harris Unity Award – National Conference for Community and Justice
1998
Selected as one of KSLA Channel 12's "Hometown Heroes."
Liberty Bell Award – Shreveport Bar Association
1997
Ralph Waldo Emerson Award – All Souls Unitarian Universalist Church
1995
Humanitarian of the Year Award – Arthritis Foundation
About Mack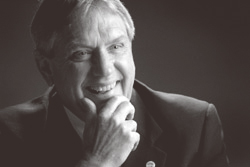 Mack McCarter is founder and coordinator of Community Renewal International. A native of Shreveport, La., Mack holds a Bachelor of Arts degree in religion from Texas Christian University and a Master of Divinity Degree from Brite Divinity School.
He served as a pastor for 18 years in Texas before returning to Shreveport in 1991 to begin implementing his vision for community renewal. CRI was formally organized in 1994 and under Mack's leadership has grown into an organization which has received national and international recognition for its life-changing impact.